GREAT GIFT IDEA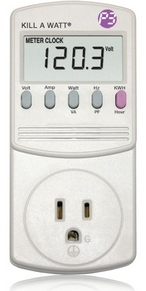 $25 plus $8 shipping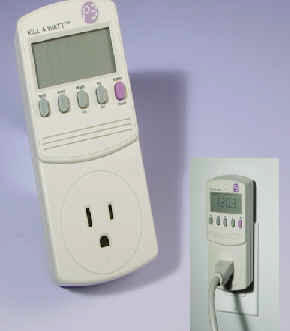 Kill A Watt Meter: The Electricity Detector and Monitor can educate you about your monthly electric bill and help you save a lot of money. You can now be a "detective" and ascertain what appliances are actually worth keeping plugged in. Simply plug in the Kill A Watt Meter, connect your appliances to it, and Kill A Watt will assess how efficient it really is, showing you the instantaneous power used, and also cumulative energy or kilowatt-hours used.

Kill A Watt, with its large LCD display, will count consumption by the kilowatt-hour, same as your local utility. With the help of Kill A Watt you can figure out your electrical expenses by the day, week, month, or year on a given device. Kill A Watt can check the quality of your power by monitoring supply Voltage, Line Frequency, and Power Factor.

Only $25.

Now you'll know if it is time to install a power strip on your entertainment center instead of feeding those ghosts loads while you are sleeping or away from home. Or, find out how much energy you save with a laptop instead of a desktop computer.
Features include:
Operating Voltage: 115VAC Max Voltage: 125VAC

Max Current: 15A Max Power: 1875W

Dimensions: 5 1/8" x 1 5/8" x 2 3/8"